New Walker Packets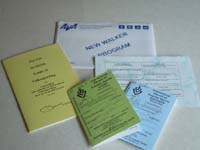 The New Walker Packet enables walking "for credit" and receiving recognition and awards from the American Volkssport Association (AVA). Read our Incentive Program page to find out more.

You do not need to be a member to purchase a New Walker Packet.
The cost is $5.00
The New Walker Packet includes 1 Event book, 1 Distance book (normally $5.00 each), coupons that allow you to walk the next 3 walks for free (normally $3.00 per credit walker), and coupons to receive a complimentary copy of The American Wanderer (the AVA newspaper) and a patch. (total value of over $19.00)
The books have no expiration date. Only one person can use a New Walker Packet, however, and provide you with your first Event and Distance books. Subsequent Event and Distance books need to be purchased through the club or from the American Volkssport Association.
If you join the Sacramento Walking Sticks, you may purchase one New Walker Packet per person by completing the appropriate section on the application form and adding $5.00 per New Walker Packet to the membership fees.

Members who walk for credit get free Sticks Walk Stick's Walk books (see Special Programs) and earn rewards.